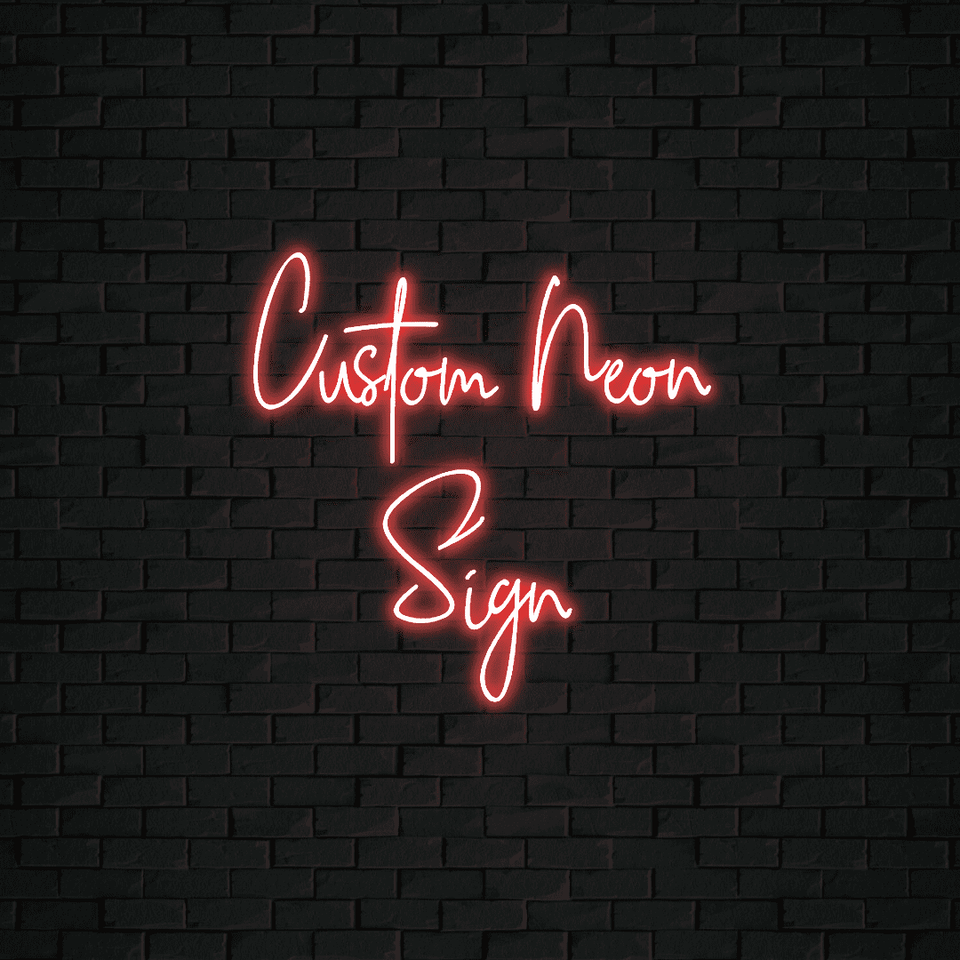 Handmade With Love
Securely-Packaged
Energy-Efficient
SHIPPING TIME
WHAT'S IN THE PACAKGE?
WARRANTY
FREQUENTY ASKED QUESTIONS
- Your neon sign will be delivered in 2-3 weeks.
- Expedited shipping is available on request for an additional charge. Please email us at info@neonmarvels.com or click on the chat box to chat with us.
- An amazing LED neon sign.
- An adapter with power cable based on EU, UK, US, and AU plug types.
- Remote and dimmer.
- Sign hanging kit and wall mounting kit.
- Comes with a 1-year manufacturer warranty.
1. Do you have instructions on how to hang or mount the sign?
- Watch how to mount the sign on the wall.
- Watch how to hang the sign on the wall.
2. When can I expect to receive my sign?
- Your neon sign will be delivered in 2-3 weeks.
3. What's your return policy?
- As our products are custom-made, we accept returns and exchanges only on defective products. Neon Marvels will make every effort to resolve the issue and may fix, replace, refund, or partially refund the product.
If your items arrive damaged or defective, please contact our support team at info@neonmarvels.com and include both a video and a photo for diagnosis and quality assurance purposes within 2 days.

For more information check out Frequently Asked Questions.
Want to upload your logo or image instead?
Add Neon Lights To Your Creativity
DESIGN YOUR OWN NEON SIGN WITH OUR SMART NEON SIGN MAKER
MAKE A CUSTOMIZED NEON SIGN WITH LED NEON SIGN GENERATOR
Create your own custom LED sign with Custom LED Neon Sign Maker. It is simple to use and provides you with a visual illustration of your custom neon sign. In addition, you can design your desired words, caption, song lyrics with your chosen font, colour. Make a statement with neon lights custom designed to your unique style and branding.
DESIGN YOUR IMAGE OR LOGO
We can make neon light custom designs from pretty much anything. Upload your image, logo, company name or any design that you desire to make a neon sign and we will be back in touch with a professionally designed mock-up.
We create aesthetic neon signs for bars, restaurants, weddings, and neon art signs for home decor.
LED neon signs are significantly better than glass neon signs and are eco friendly too. Neon Marvels is known for producing the best in class, high quality LED custom signs. We also have an option of multi color RGB LED neon sign. So, if you want trendy neon lights or a classic neon sign replica, we can make one for you!
CUSTOM NEON SIGN DESIGN
Custom light signs are available in multiple colors, fonts, styles, and designs. You can easily create a personalized and customized neon sign to your liking. We create custom LED neon signs for businesses, events, weddings and aesthetic neon signs for home decor, wall decor, man-caves, and gaming rooms.
Neon custom signs brought to life by our logo generator will illuminate your place and bring cool vibes.
AESTHETIC NEON SIGNS FOR YOUR HOME DECOR NEEDS
Our aesthetic neon signs are fantastic for adding a decorative touch to your home. These fun neon signs come in a range of styles, including word signs and neon art signs, and are perfect for adding a selfie zone at parties and weddings.
Our LED light signs are easy to install and hassle-free so that you can enjoy your neon sign in no time. Whether you're looking for something classic and understated or bold and colorful, we have the perfect LED neon light sign for you.
We making specialize in personalized neon signs for weddings, business and restaurant neon signs, custom neon sidewalk signs, bar signs, and aesthetic neon artwork for custom home décor.
Our led signs light up homes, offices, stores, bars, cafes, shopping malls, weddings, parties, and events worldwide.
HOW TO MAKE YOUR OWN NEON SIGNS
It is easier than ever to create a sign with our smart neon sign maker. Type your text, choose your color and font, select your power adaptor and type of usage, select your desired background, and add to the cart. In five steps, you can make your wall art, wedding signs, beer signs, or gaming signs.
CUSTOM NEON LIGHT DESIGN
Hey, can you not create your desired neon sign with a neon sign maker? Are you looking for a different font or your handwriting? No problem!! contact us using our contact form. Describe your idea, the colours you are looking for and the budget.
Our team will accommodate all your needs to make the best neon sign that suits your needs.
HOW ONLINE NEON SIGN MAKER WORKS?
Enter the text and try different combinations of lighted font, color, and sizes. Once you are satisfied with your neon design, make a purchase.
If you encounter any issues while using our online sign maker, please do not hesitate to contact us for assistance.
CHEAP NEON SIGNS
Neon Marvels offers an extensive range of cheap neon signs that are perfect for anyone on a budget. Our custom light up signs are designed to meet your budget. We strive to make custom neon signs cheap and accessible to a wide range of individuals and businesses compared to our competitors, so you can get the best value for your money.