Frequently Asked Questions
How are LED Neon Signs made? How are they different from traditional neon signs?
The significant differences between traditional and LED Neon Signs are?
Do I have to pay import duties and taxes?
What happens if my neon sign arrives damaged?
Do you offer a warranty?
How can I contact Neon Marvels?
Can I use my neon signs outdoors?
What does my neon sign package include?
What can I do with my neon signs?
How can I track my order?
What Payment methods do you offer?
How can I make my own custom sign?
Are neon signs waterproof?
Is Neon Marvels a legit supplier?
How can I install a neon sign?
Do you offer a free design service?
What if I can't design my desired neon sign using the customize tool?
Can you design neon signs out of my pictures?
Why should I buy neon signs from Neon Marvels?
Why are Neon Marvels' signs cheaper than its competitors?
Can I cancel my order?

Energy-efficient and durable LED flex silicone tubes are used in Led Neon Signs. In contrast, traditional neon signs are made of glass tubes and neon gases.
Cost: The raw materials used in LED neon signs such as silicone, LED's and Acrylic board are relatively cheaper and simple to design. Whereas Glass neon signs are costly and extremely difficult to repair.
Toughness: The silicone tubes used in LED signs are highly tensile and high quality, whereas glass signs are fragile and can easily shatter upon impact.
Safety: The input voltage of LED neon signs is 24V/120, whereas the traditional Neon's input voltage range from 3KV-18KV.Due to low voltages, LED neon signs are cold to touch and suitable for home décor or indoor signs. Whereas glass neon signs are dangerous due to high voltages and risk of breakage.
Maintenance: LED neon signs don't require any specific maintenance. Depending on the placement and location, customers should clean neon signs to ensure no dust and debris.
Lifespan: The average life span of LED neon signs is over 30,000 hours. The neon glass signs last for only 10,000 hours.
In most cases, US customers are not subject to import duties and taxes. However, each country has their own set of rules regarding duties and taxes. Therefore, you must be aware of your country's import laws and regulations before placing your order. Neon Marvels don't charge you any import fees in your order. Our product cost only includes shipping charges. Customers are responsible for any import duties or taxes levied on their shipments. Every neon sign is custom-made. If they refuse to accept the shipment due to import duties, taxes, or other reasons, product costs are non-refundable.
Customers must ensure that they unbox the package within two days. After that, we cant offer an exchange or refund. However, if your sign is damaged or defective, we will replace or fix your sign free of cost. For more information, please check our refund policy.
We offer 12 months warranty on all our products. Click here for more information.
If you a looking for a custom sign, you can use our neon sign maker or Upload your image form. If you cannot make the customizations required, feel free to email us at info@neonmarvels.com We are happy to assist you.
Now, you can order an outdoor neon sign. Unlike other suppliers, Neon Marvels' outdoor LED signs are IP67 waterproof rated. Water and dust-proof products are rated using Ingress Protection(IP) numbers. IP67 neon signs are protected from dust and sand and tested to work in water up to a depth of 1 meter. When you order your custom neon signs, you can use select the usage for outdoor neon signs. You can also leave a note to us when you shop our collection.
Each package includes a lovely neon sign, a dimmer to control the brightness of the neon sign, and a sign hanging or wall mounting kit. Please note that batteries for the remote are not included.
LED neon signs are a trending decor. The signs can be customised in any colour, size, design or font. You can use it as home decor to add new vibes and positivity. In addition, you can use neon signs in a commercial establishment to appeal more to your customers. Custom Neon signs are an amazing addition to gyms, weddings, parties and events. The usage is limitless.
Once your order is processed and
shipped, you will receive an email including your tracking number from the shipping service.
Neon Marvels accepts Paypal and all major credit cards. For custom neon signs, you can make a purchase directly from our website. For custom images, business logos and outdoor LED neon signs, We will provide a payment link once you accept the quote.
You can use our Customizer to make your own neon sign as per your requirements. You can also upload the image to create your custom neon sculpture or lamp. For any assistance, don't hesitate to get in touch with us.
You can leave a note to us when you shop our collection of neon signs. You can also use our outdoor sign maker to design your waterproof sign. All our outdoor LED signs are IP67 rated. You can also use standard LED signs for outdoor parties or weddings for a limited duration. Please ensure that you don't expose the neon signs to moisture and extreme temperatures.
Yes, Neon Marvels is a legit business
incorporated in Canada.
We have on-site operations in Canada and China. Aside from that, we work with graphic illustrators and designers from the USA, Belarus, Indonesia and Bangladesh. Our partner in China is equipped with 15 fantastic technicians and owns an in-house extrusion unit to make raw materials for neon signs.
We strive to provide excellent
products and world-class customer service.
If you would like to learn more about our company, please reach out to us at info@neonmarvels.com
Neon Signs are easy to install. We also include an installation manual to guide you.
You can either order a mounting kit or a wall hanging kit when you place your order.
1. Mounting on the wall:
Every neon sign comes with pre-drilled holes on the acrylic board. The mounting kit contains all the hardware needed to mount the neon sign at your desired wall location.
2. Hanging kit:
You can also hang the neon signs from your ceiling using a hanging kit and pre-drilled holes.
3. You can also order an acrylic stand if you want your neon sign on a table or a desk.
4. Connect the dimmer (optional) to the neon sign.
5. Connect the neon sign to your power outlet with the transformer.
6. Enjoy the neon vibes!

Yes, we offer free design services to make neon signs from your images, logos or outdoor neon signs. Our design can also provide multiple revisions until you are satisfied with the neon sign design. Please note that we cannot offer refunds once the custom sign is approved and goes to production.
If you are unable to create your desired neon sign,Our friendly staff are always there to assist you.Feel free to contact us at info@neonmarvels.com
Yes, It is one of our expertise to make neon signs out of pictures. While there are some limitations, Our talented designers can still convert any picture into a neon sign.Check out our matrix 😅 neon sign that we designed from the picture below 👇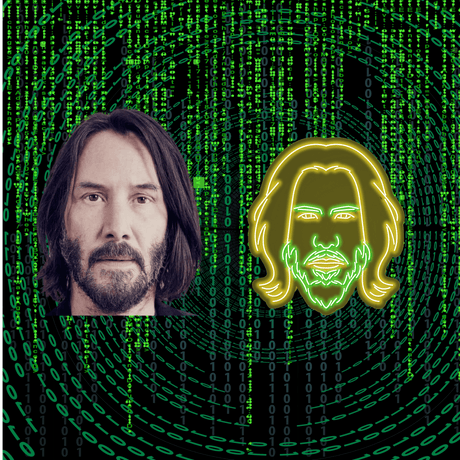 Neon Marvels offers the best quality with low-profit margins. Our vision is to make neon signs affordable for everyone. We offer a 12-month warranty on all Neon Marvel LED signs. Overall, we care for our customers and strive for the best service possible.
Neon Marvels established strategic relationships with major sourcing partners in North America and Asia, which led to betters prices in the first place. Besides, Our experienced design team optimises all the designs for quality and efficient design. Further, the truth is we don't mark up our prices like our competitors. Our primary drive is to make neon signs affordable for everyone 😊.
Every neon sign is made on demand.Once the order is placed and put into production,it cannot be cancelled. For more information,refer to our policy here.